MECHANICAL CHARACTERIZATION OF POLYMERIC FILMS BASED ON COPOLYMERS OF STYRENE AND BUTYL ACRYLATE OBTAINED BY HETEROGENEOUS POLYMERIZATION IN SEMICONTINUOUS
M. Guadalupe Neira Velázquez

Mercedes Puca Pacheco

Gonzalo Canché Escamilla
Palabras clave:
Polystyrene, polymeric films, mechanical properties, semicontinuous, polymerization
Resumen
The aim of this work was to synthesize copolymers of styrene (St) and butyl acrylate (AB) cross-linked with allyl methacrylate by semicontinuous heterogeneous polymerization in order to study the mechanical properties of the polymeric films prepared from the latexes obtained. Copolymer latexes were stable and nanoparticles with spherical morphology were observed by Transmission Electron Microscopy (TEM). The latexes had final conversions between 92,5 and 97,0%, which were determined by the gravimetric method, and a solids content close to 20%. The nanoparticles of latex had an average diameter of 59,1; 55,1 and 49,0 nm for monomer dosing rates of 0,75; 0,45 and 0,15 g/min, respectively. By means of mechanical characterization of the polymeric films and according to the statistical analysis, it was found that when the monomer dosage rate decreased in the synthesis, the mean particle diameter and molecular weight also decreased, and with it a decrease in its Young's Modulus (MPa).
Descargas
La descarga de datos todavía no está disponible.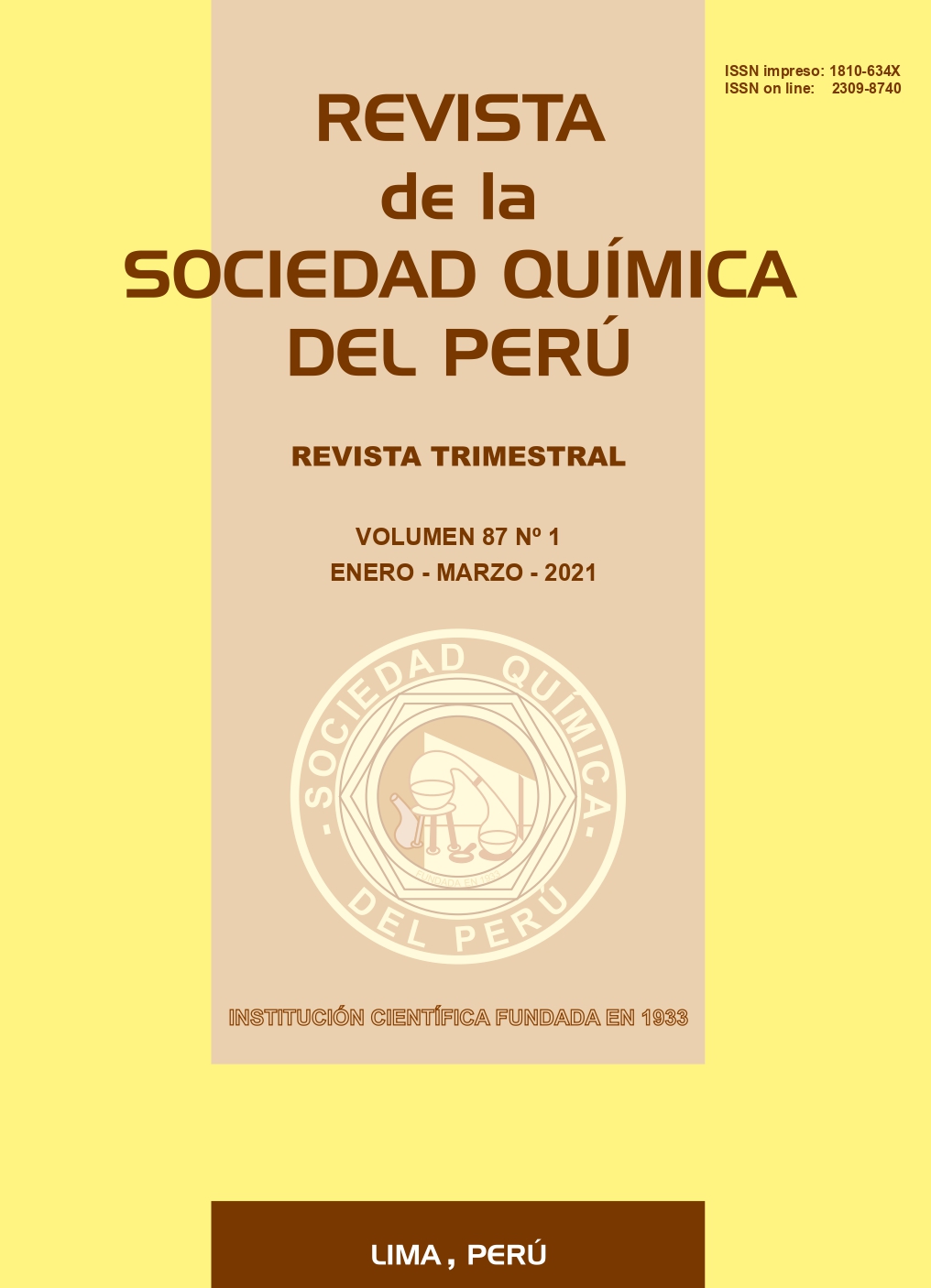 Derechos de autor 2021 Revista de la Sociedad Química del Perú
Esta obra está bajo licencia internacional
Creative Commons Reconocimiento 4.0
.
Revista Arbitrada
Derechos reservados: Prohibido el uso total o parcial del material de esta revista sin indicar la fuente de origen.
Nota: Las referencias comerciales que aparecen en los trabajos no constituyen una recomendación de la
Sociedad Química del Perú